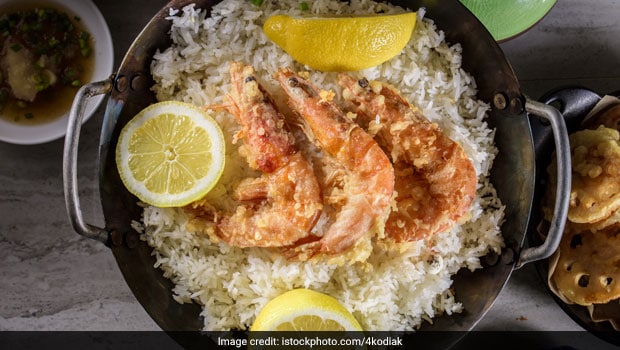 Most of you would agree that there's nothing more comforting than a bowl of rice. After a tiring day at work, savouring a piping hot bowl of rice with your favourite broth, veggies, meat or curry is the perfect remedy for instant joy. The best part is in that bowl of goodness you can add in all that you want to satisfy your cravings. Across South-east Asian countries, rice bowls have been a favourite meal option, be it farmers, travellers or even royals. The one-pot concept not only makes cooking easy, but also lets you relish myriad flavours in one bowl while filling you up with essential nutrients too.
With a large number of Pan Asian restaurants gaining popularity across India, diners are warming up to more and more delicacies from the Far East. And the rice bowl is one such treat that is highly in demand. Probably it's to do with the familiarity with rice, or the use of fragrant ingredients like jasmine rice, kaffir lime, lemongrass, galangal and the like, it's hard to resist eating. The good part is that it is healthy, using cooking techniques like boiling, steaming, roasting and poaching, as well as providing you a balanced mix of carbs, proteins, fiber, minerals and vitamins.
How to Make Rice Bowl at Home
Treat yourself a delightful rice bowl meal when you seek soul food. You don't need too many ingredients, but just a handful to make a relishing pot. A smart thing to do is to use fragrant rice as well as quick flavour enhancers like lemongrass, coconut milk, garlic, ginger, soy, miso and peanuts among others.
Chef Vikram Khatri of Hello Guppy, which offers a range of hot bowls, says, "We need a base of steamed rice, some salad leaves, fish, grilled chicken, Teppanyaki vegetables or meat like tenderloin or pork, and a topping like crumbed tofu. Flavours can be from the main dish itself which can further be enhanced with sesame, truffle oil, and sauces like mustard, Worcestershire, soy honey glaze, wasabi, siracha mayo, sake butter, ginger-onion, etc. You can choose healthier options like black or brown rice, millets, barley and quinoa. It's very important to keep it fresh. A basic thumb rule is to assemble it last minute."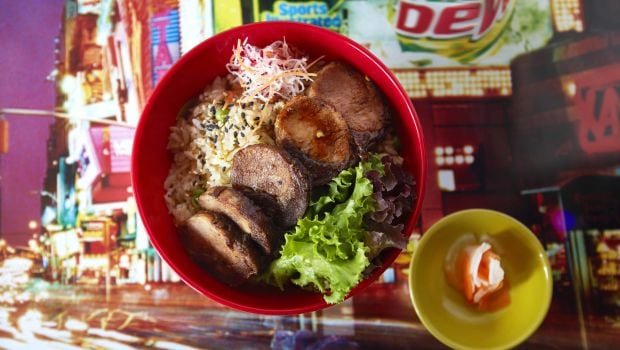 Chef Jairam Pariyar, Head Chef of Mumbai's Hakkasan, says, "We serve Hainanese Chicken Rice, which is very popular. We use fragrance rice, which is cooked with garlic, ginger, chicken stock and butter. It's very easy to make. You need to toss the garlic and ginger with butter, add chicken stock, cook until the stock boils, pour it into the rice and steam for 30 minutes. We serve this dish with three different sauces – chili sauce, ginger sauce and dark soy sauce."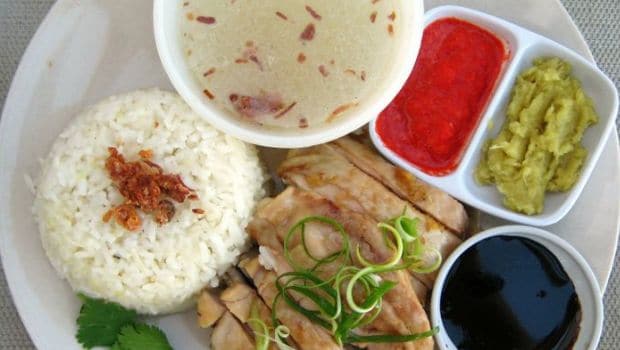 Rice Bowl Recipe to Try at Home
Here's a Rice Bowl Recipe for you to try –
Chicken and Egg Rice Bowl
Recipe by Chef Vikram Khatri
3 cups water
1/2 cup sugar
1/2cup salt
1 boneless chicken thigh with skin
1 cups olive oil
1 cucumber
1 cup cooked short-grain rice
4 poached eggs
1/2 cups sliced scallion (greens and whites)
1 Ginger-onion sauce
1 cup Mix salad leaves (washed ,cleaned )
1 Tablespoon sesame seeds (roasted )
1 Tablespoon flax seeds
For the Sauce
1 cups thinly sliced onion
1/4 cup grated ginger
1/2 cup Sesame oil
1/4 cup soy sauce
3 Tablespoons water
2 Teaspoons rice vinegar
For the Cucumber Pickle
1 Teaspoon sea salt
2 Tablespoon sugar
3 Tablespoon rice vinegar
Method:
Combine water, sugar and salt in a large container. Stir until dissolved. Add chicken, cover and refrigerate for at least 1 hour and no more than3. Remove chicken and discard brine.
Preheat oven to 190 degree C. Pack chicken snugly into a pot or other ovenproof vessel. Pour olive oil over the chicken to cover and grill for 40 minutes.Remove from oven and cool.
Make a quick cucumber pickle: slice the cucumber into thin slices. Toss with remaining sugar ,salt and rice vinegar and allow to sit until ready to serve.
To make the ginger onion sauce, combine all ingredients and let sit for 10-15 minutes for flavors to develop.
Heat a cast-iron grill pan or heavy skillet over medium-high heat for 1-2 minutes, until the pan is hot. Add chicken skin-side down and brown deeply, 3-4 minutes. Transfer chicken to a cutting board.
Put rice in a bowl. Use the back of a soup spoon to create a shallow indention in the middle of each bowl of rice and slide a poached egg into it. Arrange cucumber slices, nestling them together in a mound. Cut the chicken into 1/2 inch thick slices, and fan around the egg. Sprinkle with scallions and drizzle with ginger-onion sauce. Garnish with salad leaves, tossed sesame seeds and flax seeds.
Now that you have this delicious recipe to try making at home, you can get started to dishing out one pot meals and making the most of fresh ingredients.
["source-food.ndtv"]