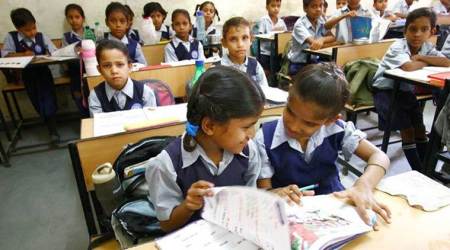 Even as its existing pre-primary schools struggle for want of trained teachers, the Brihanmumbai Municipal Corporation (BMC) has decided to set up 396 new balwadis in the city. According to a senior official of BMC education department, the new balwadis are likely to start from the next academic year. "The civic body runs schools in all wards, but compared with the number of schools in the city, pre-primary schools are very few. This prompts parents to enrol their children in private pre-primary schools and kindergartens. Hence, we have decided to start pre-primary sections covering almost all wards in the city," the official said.
Teachers and activists, however, point out that not only are the existing balwadis short-staffed, the poor honorarium and salary paid to teachers and untrained teaching staff (balwadi sevika) has often prompted them to go on strike.
There are 1,124 BMC schools in total, of which 504 schools have pre-primary sections. These 504 include 184 Marathi medium, 112 Hindi, 111 Urdu, 71 English, six semi-English, eight Gujarati, 10 Tamil, one Kannada and one Telugu medium balwadis.
According to data released by the BMC, ward B and C have zero balwadis whereas A ward had just one balwadi. According to the recent decision, ward C will have 12 new balwadis, whereas Ward A and B will get two and five balwadis respectively. L ward, which comprises areas such as Kurla and Sakinaka, has the highest number of balwadis (86). The region will get 25 more such centres.
Balwadis under the BMC have been functioning since 1984, under the civic body's project called "Samaj Kalyan Prakalp". In the beginning, the teachers and non-trained teaching staff were paid an honorarium of Rs 10, which was increased to Rs 15 in 1995. In 2000, the honorarium was further increased to Rs 500.
In 2007, after the balwadi teachers went on strike, the BMC hiked the honorarium. Currently, the teachers are paid a salary of Rs 3,000 per month, while the non-trained teaching staff gets Rs 1,500 per month.
A teacher working in a Marathi-medium balwadi at Goregaon said, "Despite working with the balwadi for over 28 years now, they pay us only Rs 3000 per month. Not just that, but the salary is sometimes disbursed after a gap of three to four months through cheques. We work for five to six hours at a stretch."
Currently, there is a requirement of 200 teachers in 81 pre-primary schools. Some of the NGOs roped in by the civic body to run these balwadis left due to lack of funds.
Shivnath Darade, general secretary, Mumbai Shikshak Parishad and former member of the BMC education committee, said, "I have written to the BMC commissioner apprising him of the situation. Even though the civic body is getting private institutions and NGOs to run these balwadis, it is the responsibility of the BMC to pay teaching and non teaching staff."
[Source"pcworld"]