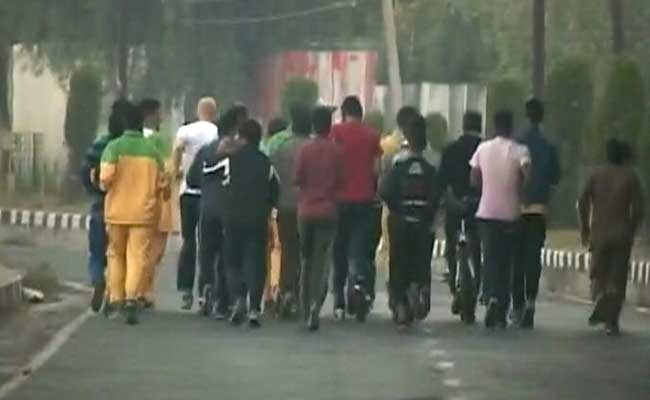 aside from the 21-kilometre 1/2-marathon so one can characteristic professional runners from India andabroad, thousands are predicted to participate in a 5 kilometre "a laugh run" in Srinagar.
SRINAGAR, JAMMU AND KASHMIR: exhilaration stage is peaking in Srinagar as there are less than 48hours to go for the first international half marathon, aimed to sell a happy and healthful lifestyle in Jammu and Kashmir.
Runners can be visible within the mornings, preparing for the marathon a good way to be hung onSunday alongside the banks of the enduring Dal Lake.
A member of the Foreshore Athletic institution, Yawar informed NDTV, "We have become schooling fromprofessionals, who increase us usually… We need such activities must take place in Kashmir."
"i'm THE change" is topic of the run organised by means of big 92.7 FM, to offer a platform for the localsto stand for social reasons like saving Dal Lake, preventing drug abuse, and retaining the metropoliseasy. it'll also sell site visitors focus, and recognize for senior citizens and ladies.
Sardar Nasir Khan of Srinagar's big 92.7 FM station advised NDTV, "the principle concept is to take care of the water bodies around us, take care of the drinking water around us… we have that hash tag, i amThe change."
aside from the 21-kilometre 1/2-marathon a good way to characteristic expert runners from India andoverseas, hundreds are expected to participate in a 5 kilometre "amusing run".
"We move from college to university and faculty to highschool and meet the scholars… to train themabout some thing is occurring on the marathon," said RJ Haya, a radio jockey.
A scholar at government girls's college, Tabish Shah told NDTV,
"We should exchange, that was the past that people in Kashmir wouldn't take part in such occasions,that is the modern-day technology… there may be nothing like ladies can do and boys can not, we haveto participate… it offers a good deal enjoyment and joy for us."
Former chief minister Omar Abdullah will amongst the outstanding faces who've signed up for the event. He tweeted, "thanks men. looking ahead to seeing you there:)."
The proposed path is from Kashmir college's Naseem Bagh campus along the banks of the Dal Lake thruForeshore street, and lower back to the campus.