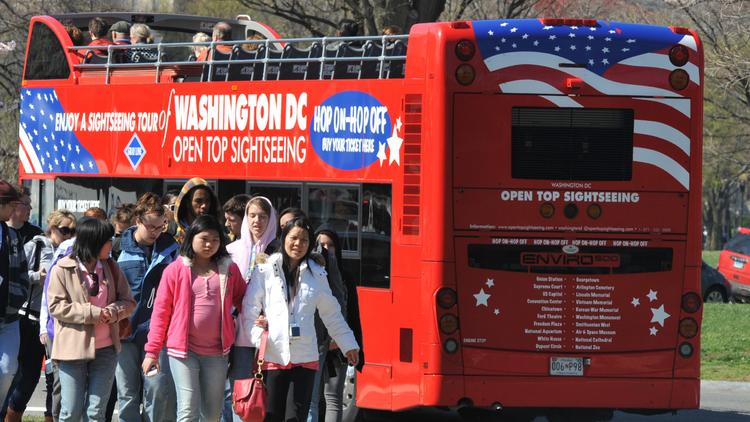 Sightseeing Washington D.C. Inc. — which does business as Big Bus Tours — last year.
The case dates back to April 2015, when a competing tour bus firm, National Mall Tours of Washington Inc., sued the National Park Service over what it said were improper procurement practices during the contract review process for the gig to provide the popular "hop-on, hop-off" bus tours around the monuments, museums and other National Mall landmarks. National Mall Tours was one of two nonwinning firms that had bid on the contract, which is estimated to be worth $80 million, according to its lawsuit.
The popular sightseeing tours around the National Mall are run by Big Bus Tours, a subsidiary of Open Top Sightseeing.
Enlarge
The popular sightseeing tours around the National Mall are run by Big Bus Tours, a… more
JOANNE S. LAWTON/STAFF
National Mall Tours, which runs tours in trolley-style buses in Arlington National Cemetery and other tourist areas around the country, said City Sightseeing Washington D.C. Inc. should not have been eligible for the contract because a private equity firm bought an ownership stake in its grandparent company during the contract review process.
PEOPLE ON THE MOVE
If you're confused about "grandparent company," here's the breakdown: City Sightseeing Washington D.C. Inc. is a subsidiary of New York-based Open Top Sightseeing USA, which is a subsidiary of Big Bus Tours Ltd., based in the United Kingdom. Back in 2015, Exponent Private Equity bought a stake in Big Bus Tours Ltd.
National Mall Tours also argued that the contract should have been subject to congressional review, given that its estimated value was more than $5 million per year.
U.S. District Court for the District of Columbia Judge Amy Berman Jackson shot down both of those arguments in her March 18 ruling on the parties' competing motions for summary judgment, which was unsealed at the end of March.
She found that the fact that United Kingdom-based Exponent Private Equity invested in Big Bus Tours' grandparent company, Big Bus Tours Ltd., did not invalidate the award. The crux of the issue is that Big Bus Tours' parent company never changed, Jackson wrote.
"Because the court finds that the certifications made by Big Bus Tours in its proposal concerning its ownership were not invalidated by the change in the grandparent company's ownership … it will not invalidate the award on that basis," Jackson wrote.
In addition, the judge ruled that the National Park Service's method for calculating the contract's value was valid. NPS placed the value of the contract at less than $5 million per year based on the services the contract required — not any additional tours or services the tour company may be authorized to provide under the contract.
National Mall Tours estimates the value of the contract to be at least $8 million per year for the 10-year lifespan of the contract. The company plans to appeal the judge's decision, its attorney said Tuesday.
"While we respect the court's authority, we disagree with its decision and will be appealing it," the attorney, Kevin Garden, said in an email.
Meanwhile, Big Bus Tours has been operating the tours since its contract was originally awarded in April 2015. It had actually been operating the tours before that, as it had been awarded a temporary contract to operate the tours after previous vendor Tourmobile's contract ended in 2012.
"Operation was not suspended or otherwise modified when the case was filed, as our position has always been that the contract was legally awarded," said Michael Litterst, NPS spokesman.
Rebecca Cooper covers retail, restaurants, tourism and the arts.
["source-Bizjournals"]