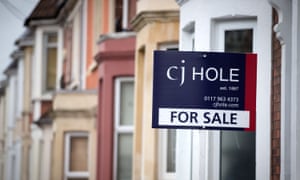 Philip Hammond was subjected to sharp criticism following the budget last month when analysis from the independent Office for Budget Responsibility showed steps to scrap stamp duty for most first-time buyers would push up house prices and only help 3,500 people buy a home.
There was positive news for ministers seeking to curb the buy-to-let lending market after a boom in recent years, with the number of mortgages extended to landlords at its lowest level for four years.
The figures also shine a light on cutthroat lending practices among banks, driven to offering more competitive rates by more lenders entering the market. Several small banks such as Aldermore and Atom Bank have started selling mortgages in recent years, while major banks such as RBS have also begun focusing more on home loans, viewing them as safer ways to make money than riskier investment banking.
The Bank said the proportion of new loans extended at less than 2% above its base rate – which rose from 0.25% to 0.5% last month – now accounts for 65.1% of fresh loans sold to consumers, after a steady increase over the past year.
However, the central bank will take comfort from figures showing how few people have slipped into arrears, with the lowest number of people falling behind on their monthly payments since at least the beginning of 2007. There was also a fall in the proportion of high loan-to-value mortgages, which are typically less risky for banks and easier for consumers to keep up with repayments.
Threadneedle Street revealed last month that losses on mortgage lending would reach £17bn in the event of a severe economic shock, as part of its annual health check of the financial system.
But it said banks would continue to function despite these heavy losses forecast in the stress test scenario, which included a 4.7% fall in UK GDP, a 33% drop in house prices, interest rates rising to 4% and a 27% fall in the pound.
["Source-timesofindia"]