It's been a long time coming, but Bixby has finally found its voice. Samsung is gearing up to push out the final piece of its AI package, Bixby Voice, to all Galaxy S8 phones. Before long, millions of people will be saying, "Hi Bixby" to summon the new assistant.
I had a chance to test an early version of Bixby Voice, and there's actually quite a bit you can already do with it. It's a little slow on the trigger at times, but I was impressed with how well it was able to understand me. Still, Bixby isn't quite a clone of Google Assistant or Siri. Samsung's AI is more servant than smartie pants, carrying out tasks that would normally require numerous steps. So let's see what it can do:
TABLE OF CONTENTS
Setting up Bixby Voice
Using Bixby Voice
Bixby Voice features
Bixby tips
Setting up Bixby Voice
How do I know if I have it?
Like all of Samsung's updates, Bixby Voice will be a staggered release that will vary depending on your carrier. Once it's available, your phone should alert you to the change, but there are a couple of ways you can check to see of it's been pushed to your handset.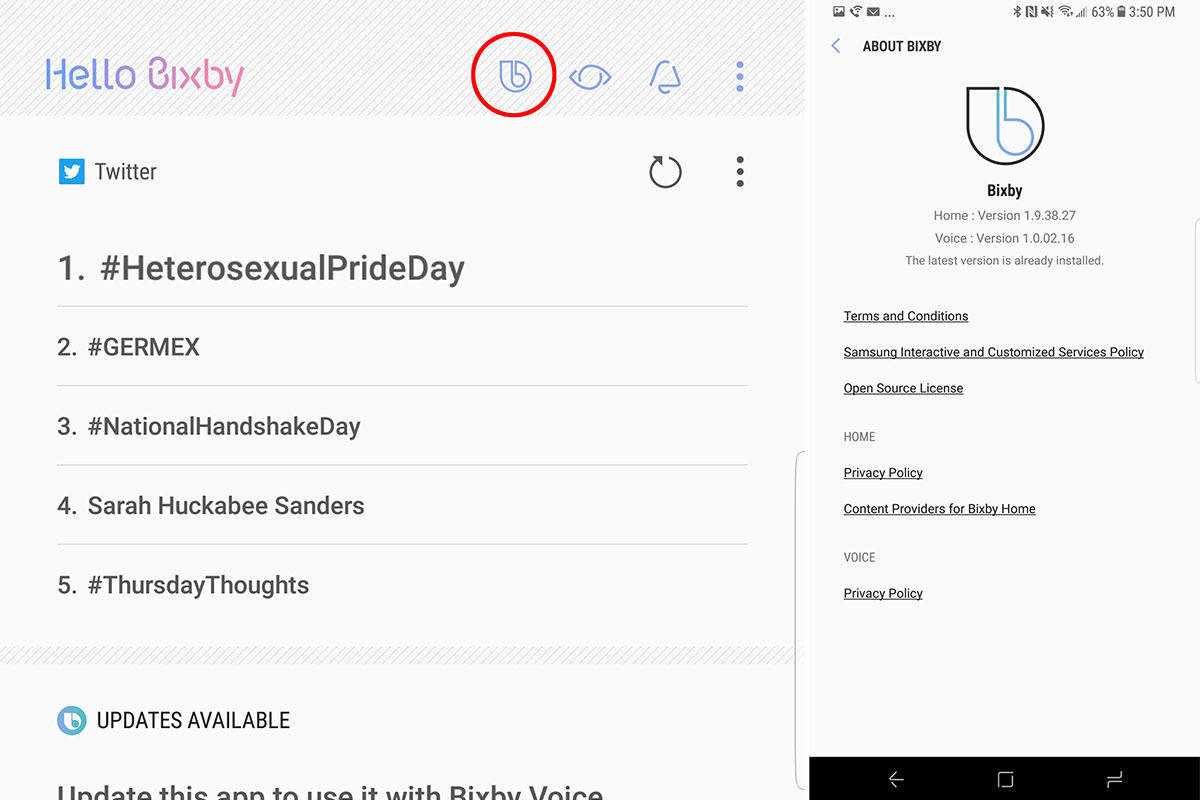 First, swipe left to get to the Bixby Home screen. If Bixby Voice is live, you'll see a new "b" symbol next to the Bixby Vision eye and Bixby Reminders bell icons. If you don't see it, tap the overflow menu in the top right and select Settings. Then tap the About Bixby option and it will tell you if there are any available updates.
You'll need to update your other Galaxy apps. To do that, open the Galaxy Apps store, tap the overflow menu icon in the top right, then My Apps, and Update. If any apps need to be updated, they will appear on the next screen. If Bixby Voice is one of them, once it finishes updating you'll be ready to go.
How do I get started?
To start using Bixby, swipe over to the Bixby Home screen and it should walk you through the setup process, which is pretty simple. In the screens that follow, you'll practice saying, "Hi Bixby," and try out a few commands. Additionally, there are a few general options in the Bixby Home Settings menu, including background color, feedback sounds, speaking style, and notifications.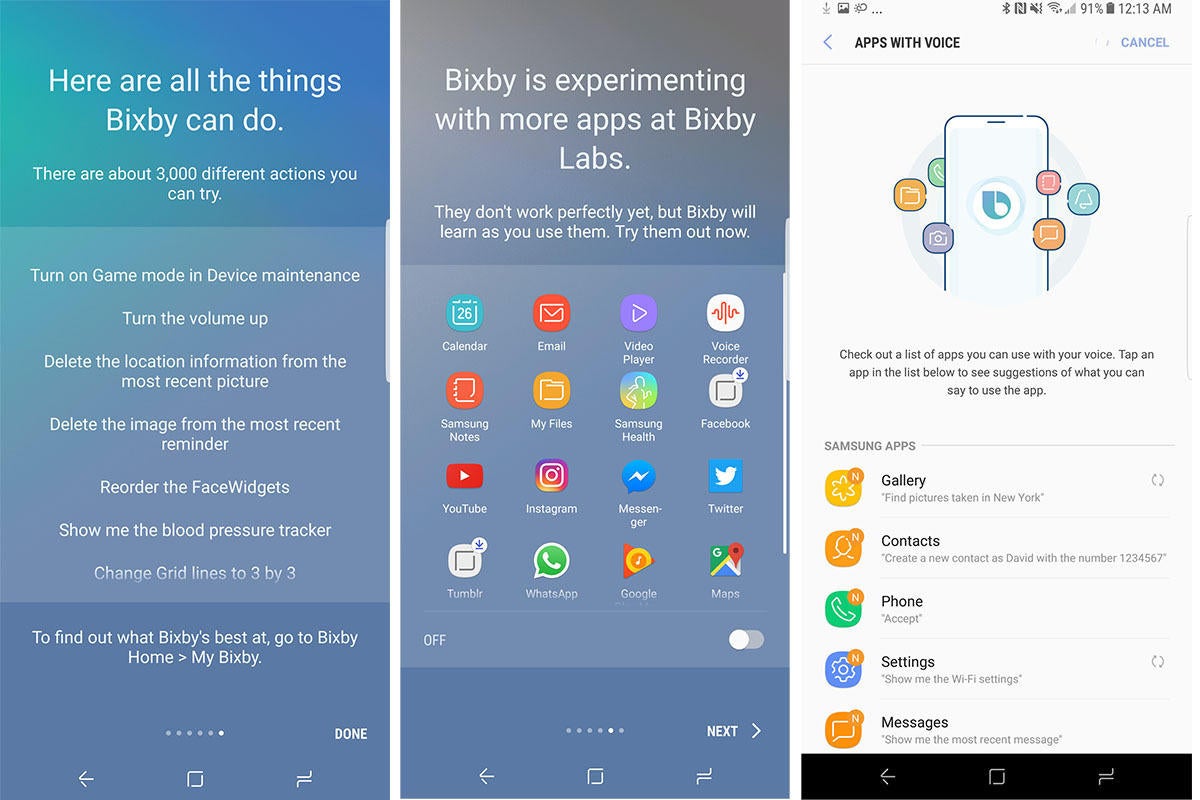 What apps does Bixby work with?
At launch, Bixby will only work with a handful of Samsung's own apps:
Bixby Vision
Calculator
Camera
Clock
Contacts
Gallery
Internet
Messages
Phone
Reminder
Settings
Weather
What about third-party apps?
At launch, Bixby is only designed to work with the apps above, but Samsung is looking to bring Bixby Voice to more apps quickly, including some popular third-party apps. The Bixby Labs tab in the Home Settings shows you what apps are in development and lets you opt in to test them. Bixby Labs already includes some intriguing upcoming apps, including Instagram, YouTube, Play Music, Maps, Facebook, Messenger, WhatsApp, and Twitter.
Using Bixby Voice
How do I summon Bixby?
There are two ways to summon Bixby. You can say, "Hi Bixby" or you can press and hold the phone's side button. A small blue circle will appear in the left corner of the screen ready to receive your request. Just know that the side button works like a walkie-talkie, so you'll need to keep it pressed until you finish your command.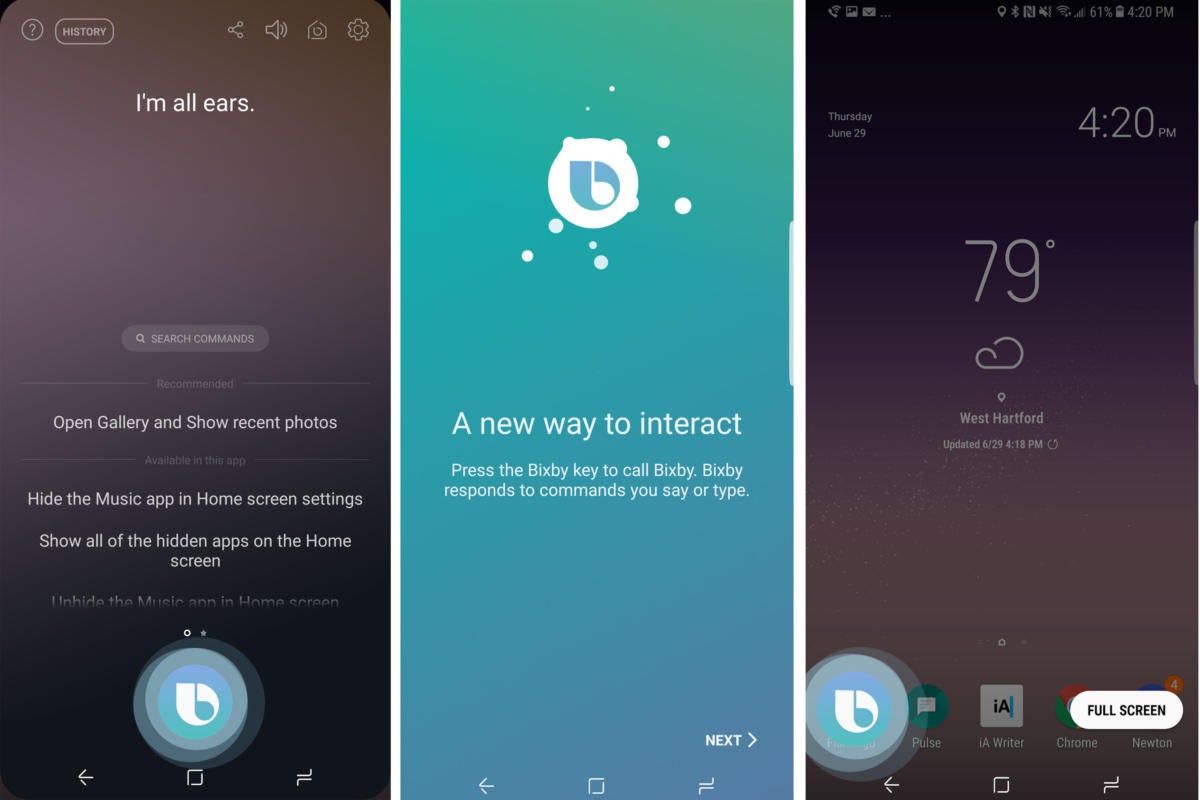 Can I use Bixby on the lock screen?
Sort of. You can summon Bixby on the lock screen by either pressing the button or saying "Hi Bixby" like usual. However, you'll need to unlock your phone before it can actually perform your request.
Can I type commands to Bixby?
Yes! When you summon Bixby you'll see a Full Screen button to the right. Tap it and Bixby will expand to fill the whole display. Then select the Search Commands field in the center and you'll be able to type to Bixby instead of talk to it.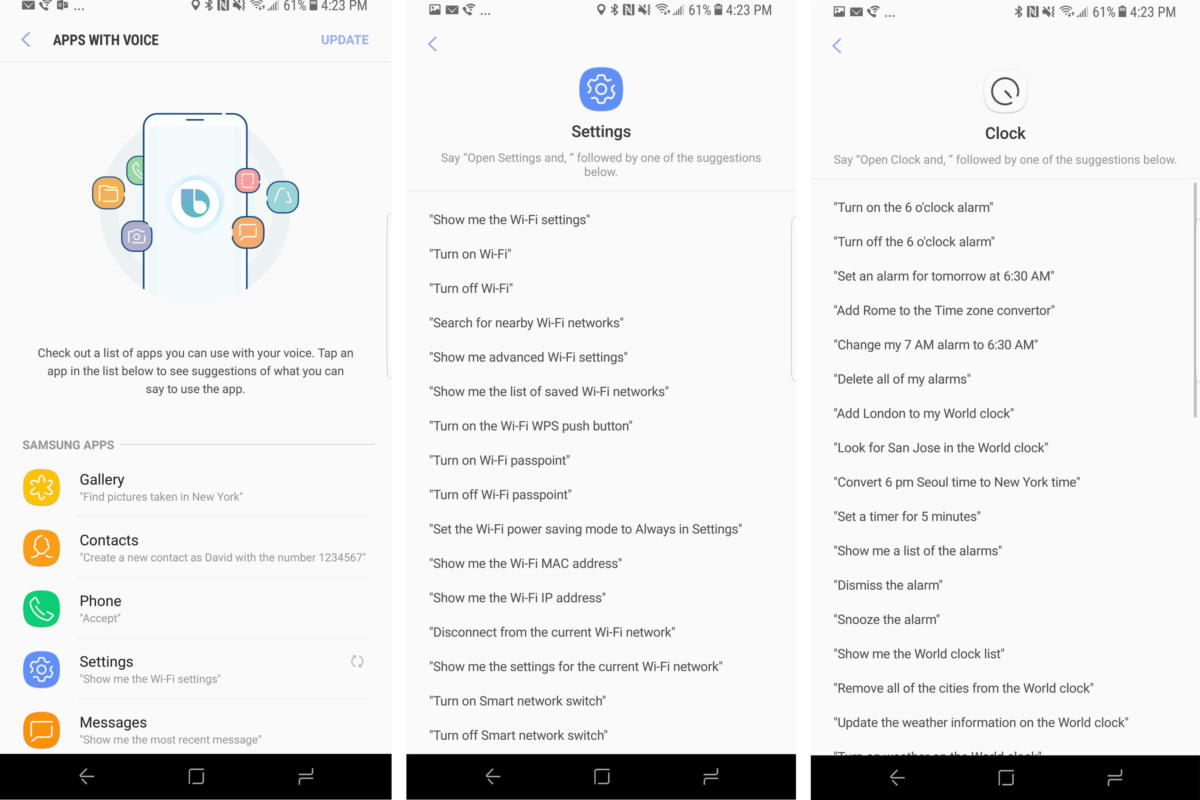 How do I know what I can ask?
A lot of it is trial and error, but you can see a list of suggested questions for each app in Bixby Home. Tap the overflow menu, select Apps with voice, and choose the app you want. Inside each you'll find a list of actionable requests.
Can I correct Bixby?
Samsung wants to get Bixby up to speed as quickly as possible, so after each request is completed (or not), a question will appear on the screen asking, "How was my response?" Tap Great and you'll get 5 XP points. Tap Let's improve and and Bixby will take you to a screen where you can select words that were misunderstood or describe what went wrong.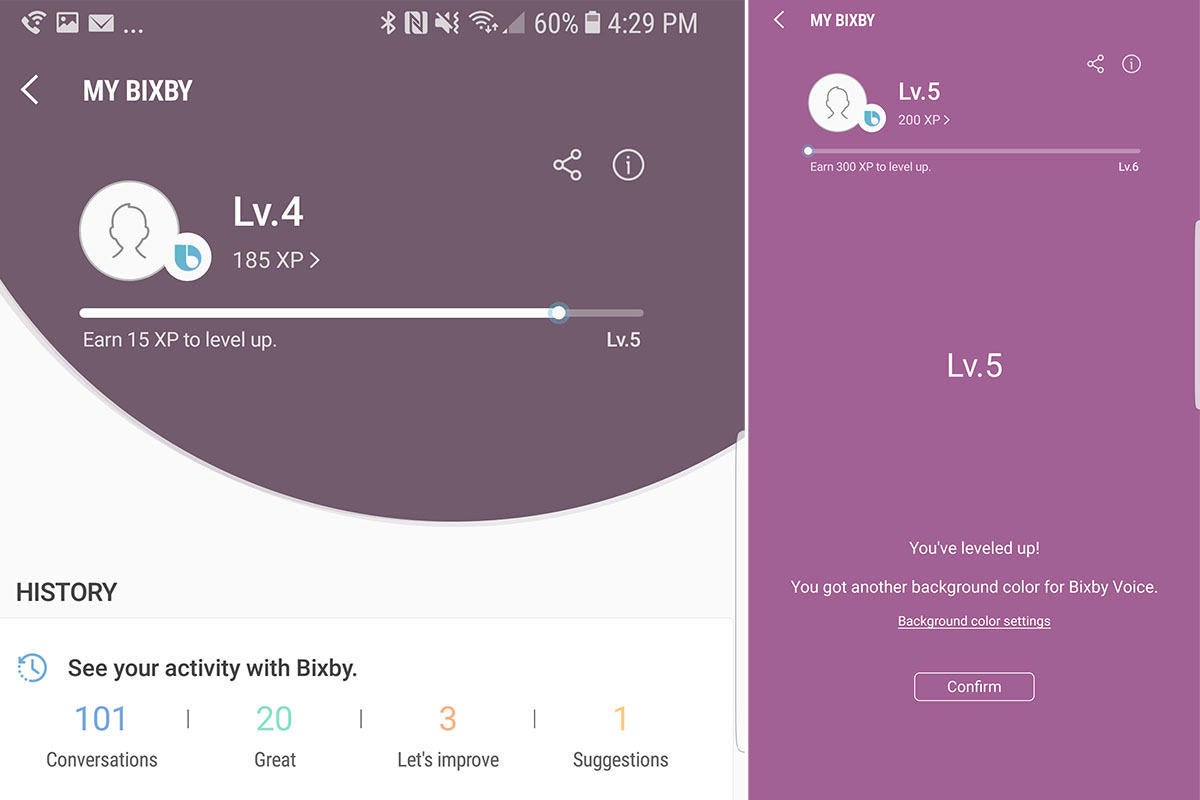 Samsung,Bixby,Voice:,How,to,set,up,and,use,the,Galaxy,S8,assistant