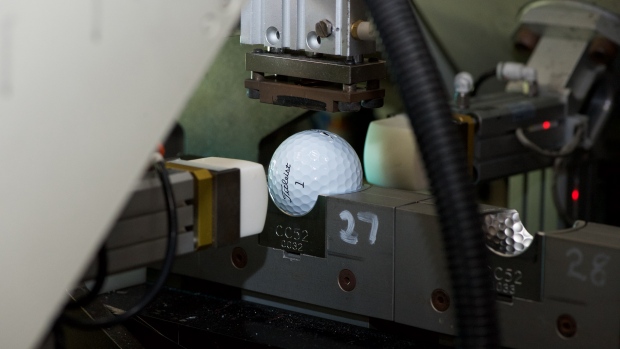 If you've ever wondered just how a golf ball is made, now is your opportunity.
Titleist is opening up one of its ball plants for public tours and giving golf lovers a look at how Polybutadiene and Urethane and other products get mixed together to become a Pro V1.
The Titleist Golf Ball Experience is a sort of Disneyworld experience for golf nuts. The tour will include a look at the creation and quality control that goes into the making of each Pro V1 and Pro V1x balls.
The plant is located in New Bedford, Mass., where Titleist has made balls for 80 years, and tours begin on Nov. 20. To get on a tour, which last about 90 minutes, fans must sign up to become members of Team Titleist. Oh and no cell phones or cameras are permitted in the facility – top secret, you know.
****
Meanwhile, a new Titleist golf ball was tested in a number of markets recently with the possibility that it may get a full roll out next year. The Titleist AVX is essentially a softer version of the Pro V1 model. The name reportedly stands for Alternative to Pro V1 and Pro V1x although company officials wouldn't actually confirm that.
The ball is a three-piece, urethane-covered model with a high speed and low compression core.
Titleist has made the new model available in shops in California, Florida and Arizona, hoping to solicit feedback from users before making a decision on whether to release it to the rest of the world. Look for a decision early in the new year.
****
TaylorMade has some upcoming announcements on new gear coming out in the new year, and one of them may have already slipped out.
Photos of a new driver with the label "M4" on it were making their way around social media in recent days. The club has a small channel on the sole, just inside the face with the word "Hammerhead" on it, which appears to be a type of face recoil technology. It also appears to continue the company's Geocoustic technology (which enhances feel and sound) and features a black and silver colour scheme.
Is this the next generation of drivers for the Carlsbad, Calif.-based company? Time will tell, but it certainly appears as if the TM driver family is expanding.
***
It hasn't been made official just yet, but the worst-kept secret in golf may be Sergio Garcia's move to Callaway from TaylorMade.
The Spaniard was spotted this week using a full bag of Callaway gear in practice rounds at the European Tour's final stop of the season, the DP World Tour Championship in Dubai.
The lineup included a Great Big Bertha Epic driver and fairway wood, Apex MB irons, Mack Daddy wedges and a putter from Callaway-owned Toulon design.
Garcia is one of three European Tour players (the others are Tommy Fleetwood and Justin Rose) in the running to win the Race to Dubai, the circuit's year-long points title.
For the past 15 years, Garcia was a TaylorMade staff player but parted ways in October. The reigning Masters champion is believed to be the odd man out at his former company. TaylorMade is top-heavy with player endorsements that include Jason Day, Rory McIlroy, Tiger Woods and Justin Rose and reportedly wanted to pare things down.
Source:-TSN